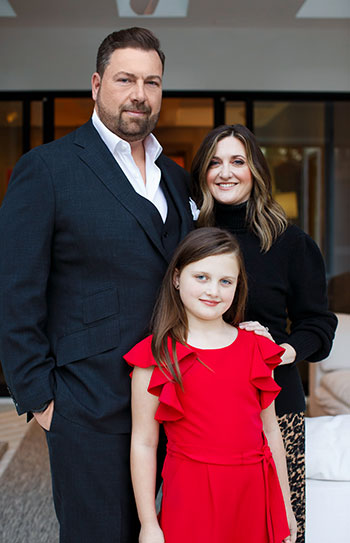 John Damon
John grew up just outside of Boston, and like many people from that part of the country, was hooked on sports from the very beginning. John played competitive sports, namely football and baseball, from a young age. His desire to compete and to win on the ballfield led to the development of his relentless work ethic. That work ethic led to a Division I football scholarship at Boston College.
In his sophomore year at Boston College, at the direction of his strength coach, Wes Emert, John became certified as a personal trainer. After college John went to work at Putnam Investments and was putting that certification to work training clients in the early morning , evenings, and on weekends. It quickly became evident to him that gym was his home away from home, so he decided to make personal training his full time career.
John joined the Mount Auburn Club. Shortly after starting at the MAC John approached the owner with a proposal for a new gym layout that would improve the overall flow and user experience at the gym. The proposal was approved, and John had his first gym design project underway. The plan was a huge success. The club's personal training revenue grew more than ten-fold within two years.
By 2003 John was ready for a new challenge and he decided to move to Los Angeles, the fitness capital of the world. There, John would work in a dream job as the Fitness Manager at The Sports Club/LA – the crown jewel of the fitness industry at the time. During his time there John was part of the team that designed or re-designed 10 different clubs. This experience further developed the passion that John has for gym design and is where he honed his skills.
John later joined the team at Equinox as a celebrity trainer and was on their design team responsible for opening the first Equinox in California. After working at Equinox on this project John was inspired to design and run his own gym.
Active Fitness opened in 2006 in the heart of Santa Monica. As owner, it was the first time that John had full creative control of the design and policies. And he put the members first. He designed a space with a clean industrial feel with accents inspired by the nearby oceanfront. The gym featured 30′ floor to ceiling windows and exposed I-beams, and with the best of the best equipment and a clean design, AF was voted the best gym in Los Angeles.
The next big design challenge that John took on was IRON, a boutique gym he co-founded in Los Angeles in 2009. IRON has stood the test of time and is still one of the premier gyms in California. IRON featured 30′ vaulted cedar ceilings and metallic paint schemes. The official boxing ring was the centerpiece of the design and has influenced countless boxing gyms since it opened.
John's career continued to evolve and he next opened a private 1-on-1 facility in heart of Beverly Hills called The Bunker. It featured high-end equipment and a unique design aesthetic, reminiscent of a luxury NYC apartment. Here John trained some of the biggest names in Hollywood.
Mostly recently John has been working on his personal gym, The Cave, which serves as the showcase for his design business. The Cave represents what is possible in gym design today with all the latest equipment, technology and attention to detail focused on your life and interests. Check out a full write up and the gallery here.
Always ready for the next big project, John would like to make your dream home or commercial gym a reality. Whether you are a homeowner looking for a custom gym, a business owner looking to provide a first class health benefit to your employees, a builder that caters to clientele that value the best of the best, or a property manager looking to differentiate yourself in an over-saturated market, John can execute on your vision. Fueled by a work ethic developed during his competitive sports days and a passion for what he does, John will approach your project with professionalism and a relentless enthusiasm. Let's have a conversation.
John has contributed to national publications such as Men's Fitness, Shape, Muscle & Fitness, Men's Journal, and US Weekly, and has been featured in the Boston Globe, Los Angeles Times, Los Angeles Magazine, Brentwood Magazine and on local and national news in both Los Angeles and Boston. He has also appeared on E News numerous times as a fitness expert.
John lives in Charlotte, NC with his wife, daughter and their French bulldog Odin!